Chumkriel Language School
Our Difference
What's different?
CLS's concept, establishment and growth were all managed by one inspired Cambodian man who has led by example – Mr Thy.  The school is totally run and managed by Cambodians with the exception of one foreign volunteer board member.
The Language School
Education is a life affirming opportunity. A gift. Chumkriel Language School has been providing education to the local community for over 15 years. The school offers a range of classes and subjects for 100 students who attend during the day. Every evening CLS runs an English language "Evening School" for over 250 children and young adults.
The school not only provides the children with the tools they need for a self-directed future, it also aims to improve living standards in the community. For example, the school has assisted village families with sanitation and housing, and has provided communal water supplies. CLS' focus is improving the lives of the Chumkriel community now and for the future.
Helping the students and the community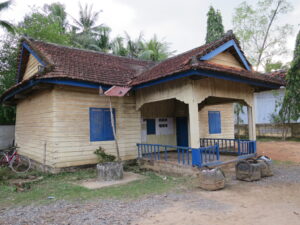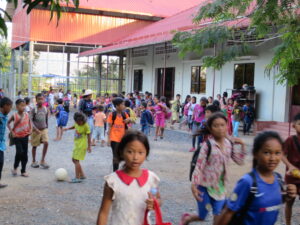 In 2005 Mr. Thy began teaching English after hours to children in a small wooden structure. Today, because of the generosity of our donors, CLS has its own dedicated Learning Centre with adjoining covered sporting field and vegetable garden. Its teaching program is integrated with the neighbouring government primary and high school.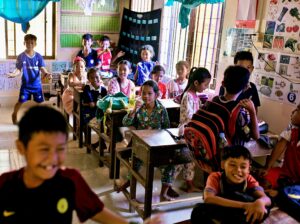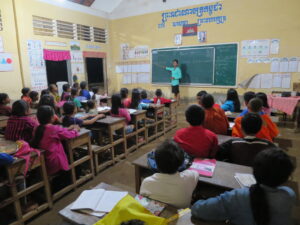 During the day, CLS provides basic education in Khmer subjects and English for 100 primary school children and computing classes for students from the government high school. In the evenings, it offers English language classes for over 300 students of all ages.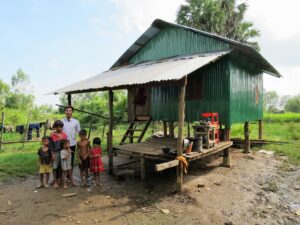 CLS also has a community outreach program, providing housing, toilets, water supplies and bicycles for families in the neighbouring community.
CLS's philosophy is to help people help themselves, fostering enthusiasm for learning amongst its students and assisting families who commit to ensuring their children attend school regularly.
The Language School
Guided by a philosophy of "a hand-up rather than a hand-out", CLS offers:
Daily classes in both English and Khmer. These classes are supplemented with creative activities and with information about health and hygiene.
A library where children are encouraged to strengthen their reading competence and to enjoy books.
Computer classes for secondary school students.
Evening classes in English five nights a week, attended by over 250 children and young adults.
A sports field for sport and recreation activities.
Daily transport to and from school for up to 25 students from the neighbouring salt fields.
A vegetable garden to teach the children how to grow vegetables, offering practical skills so families can develop greater food self-sufficiency/security.
A daily soup kitchen provides a healthy lunch for 31 children from families who often struggle to feed themselves.
Scholarships for 30 children to attend the government high school which adjoins the CLS campus, and further scholarships for selected students to study at university.
Community outreach projects, providing shelters, toilets, water supplies and bicycles for students and their families in greatest need.
All of these facilities and resources are only possible thanks to the support of our generous donors.
Please also visit CLS website at https://chumkriellanguageschool.org/